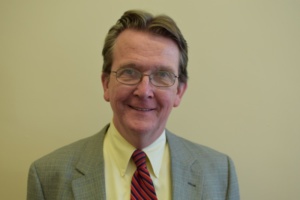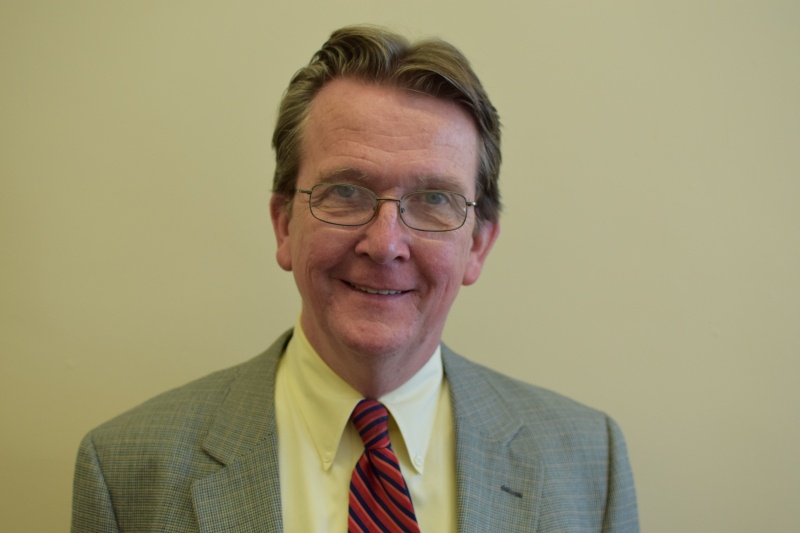 A NOTE FROM OUR CEO
Brian Doyle
As we move closer to the completion of the merger of Family Services and Hudson Valley Mental Health, we welcomed Dr. Elizabeth Bradley's fascinating presentation on Social Determinants of Health at our January 31st Report to the Community!  Dr. Bradley's message was particularly relevant to our impending merger as she clearly "connected the dots" for so many of us.  Dr. Bradley's research revealed how the long term health of a person can be drastically influenced by such factors as exposure to violence, poverty, racism, housing instability, and family dysfunction, to name just a few. These are all issues that Family Services and our partners in the Family Partnership Center address every day. And so, our linking with behavioral health services is a perfect opportunity to find ways to prevent or mitigate these destructive social determinants of health.
We are grateful to Dr. Bradley for bringing this topic to light in such stark and brilliant terms. We are also pleased we were able to recognize the community strengthening efforts of longstanding community partners: retired Family Court Judge Joan Posner, Barbara Sorkin and Sam Busselle, all of whom have spent their careers improving our community. Finally, we thank the nearly 300 people who attended our event, in support of the wide array of work we continue to do throughout the Hudson Valley:
*Youth Programs*
*Victim Services*
*Family Programs*
*Behavioral Health Centers*
*The Family Partnership Center*
*Community Safety*
*Prevention*
---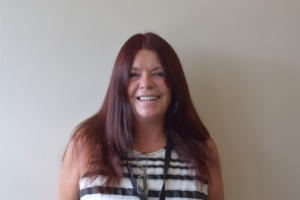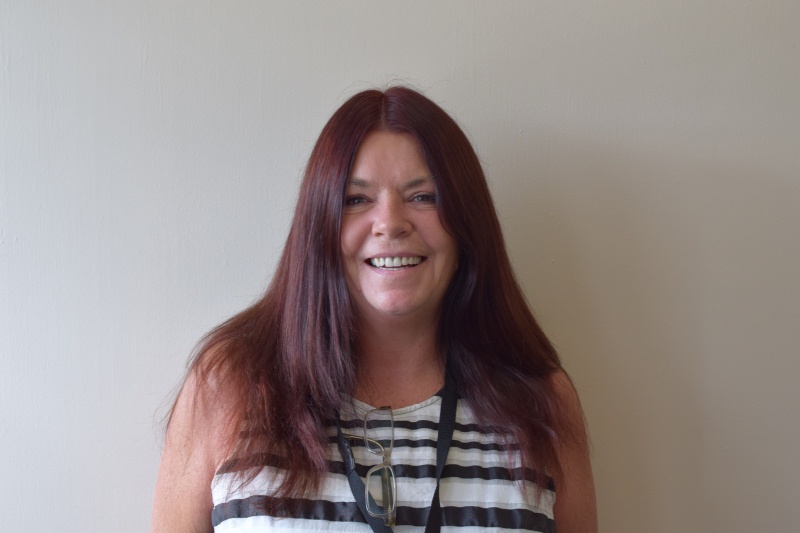 Recognizing Social Workers
Joan Crawford
Chief Program Officer
National Professional Social Work Month is in March and this year's theme is ELEVATE SOCIAL WORK. Every day, nearly 700,000 social workers across the nation act as advocates, therapists, educators and leaders who make our society a better place to live.  Family Services and Hudson Valley Mental Health are proud to have many social workers as part of our team, impacting thousands of lives throughout our community.
For generations, social workers such have worked tirelessly to improve lives. These social workers include Labor Secretary Frances Perkins, who pushed for a minimum wage and Social Security; Nobel Peace Prize winner Jane Addams, who is considered the mother of social work; Civil Rights leaders Dorothy Height and Whitney Young Jr.; and Ambassador Wendy Sherman, who helped broker the Iran Nuclear Agreement. You may not realize it, but social workers are everywhere, including the majority of programs at our agency!  For example, Sharon Grenley, clinical supervisor at Hudson Valley Mental Health, helps place people on the path to recovery;  and Kathy Peluso, Coordinator at the Center for Victim Safety and Support trains advocates and students to help victims heal. They are in schools, helping students overcome issues that prevent them from getting a good education, and they help to prevent child abuse and neglect. They also help children find new families through adoption.
According to the Bureau of Labor Statistics, social work is one of the fastest-growing professions in the United States, with 100,000 more social workers expected to enter the profession in just seven years. Still, this year's theme – Elevate Social Workers – is not just about discussing the success of the social work profession. Despite the life-affirming, invaluable work that social workers perform, their salaries tend to lag behind that of other helping professions such as nurses, high school teachers and policeman. The services of social workers are needed now more than ever before as the nation grapples with issues such as income equality, the opioid crisis, the environment and continued struggle for equal rights for all.  National Professional Social Work Month is an opportunity for social workers and their allies to turn the spotlight on the profession and highlight the important contributions they make to society.
During Social Work Month I hope you will take time to learn more about the profession and support the work of social workers in improving the lives of individuals and families and our communities. To learn more visit  https://www.socialworkers.org/Events/Campaigns/Social-Work-Month.
Program Spotlights
Sexual Violence Prevention
Family Services is the lead agency for the Regional Sexual Violence Prevention (SVP) programming in Dutchess, Orange, and Westchester Counties. As part of the Center for Victim Safety and Support, the program uses evidence-based curricula to address behaviors and attitudes towards sexual violence on both an individual and community level. Sexual Violence Prevention initiatives include promoting a healthy school life and a healthy nightlife.
SVP is excited to announce we have successfully brokered a partnership between Marist College in Poughkeepsie, NY and Monroe-Woodbury High School in Central Valley, NY. This partnership offers high school students the opportunity to earn college credit for successful completion of a bystander intervention skill building course. Family Services piloted this program with 31 Monroe-Woodbury High School students in Fall 2018 and received excellent feedback from students and staff at Monroe-Woodbury High School. We are offering the credit bearing version to students in the Spring 2019 semester. It is our goal to replicate this model in high schools across the counties we serve.
We also trained agency and partner staff within the three counties in December to work with staff in alcohol serving establishments. Our trainers will educate bar staff by means of a multisession bystander intervention course designed to promote safety in their establishments and a healthy nightlife for customers.
Family Partnership Center
What an absolute exciting time it has been at the Family Partnership Center! We have welcomed new partner tenants to the FPC Family and continue to see the mighty impact we have on our community in so many different capacities.
At the Family Partnership Center, we are committed to excellence in everything that we do.  With the addition of the FPC Steward to the team, we determined that the best way to understand the needs of our partners and address them effectively is to provide opportunities for feedback and discussion.    In December of 2018, the new FPC Steward, Kellie Wofford, developed a survey that targeted four main areas:  1) Partner Satisfaction 2) Determining Collaboration Effectiveness 3) Understanding Partner's Challenges 4) Identifying Opportunities for Improvement. According to the survey results, 70.7% either agree or strongly agree that they are satisfied with their space at the Family Partnership Center.
As a result of our team listening to what our partner tenants had to say, we took action and immediately began to implement improvements. One major improvement was making changes to the heating and cooling of the building and more changes will come.
This past January, we conducted a brainstorming session with partner agencies to review information and feedback gathered from surveys we completed. As a result of this session, we are all geared up and ready to make more changes that will prove to not only continue to satisfy our partners, but will assist us in our continued ventures to meet the needs of our community and clients.
---
Recent Events
In February…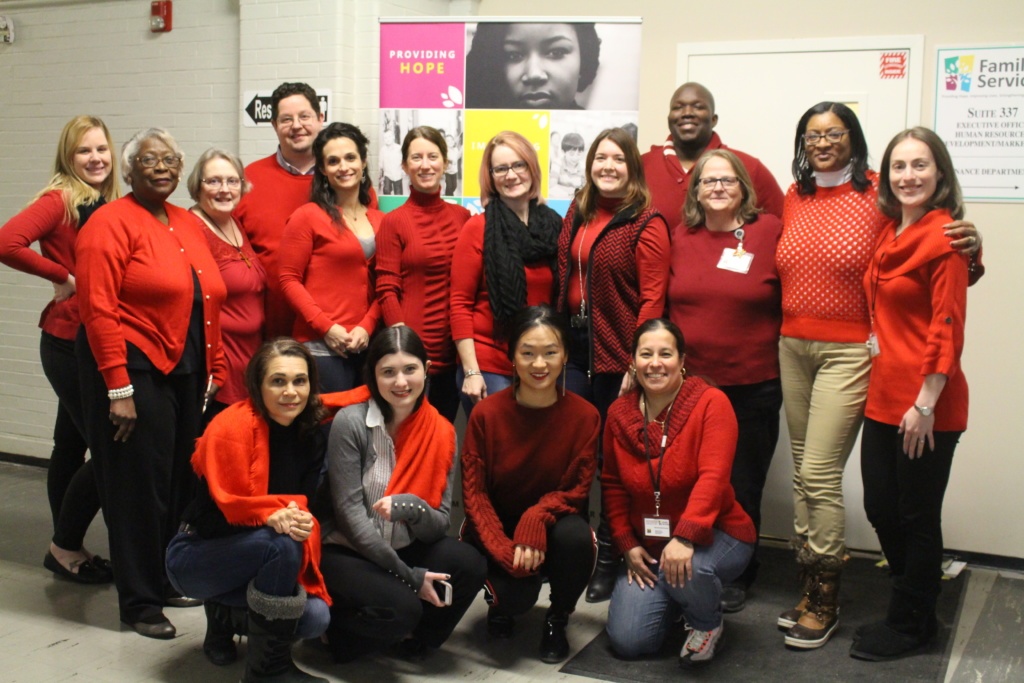 Family Services and Hudson Valley Mental Health staff participated in the American Heart Association Go Red Campaign as part of the agencies overall Wellness & Morale initiatives.
___________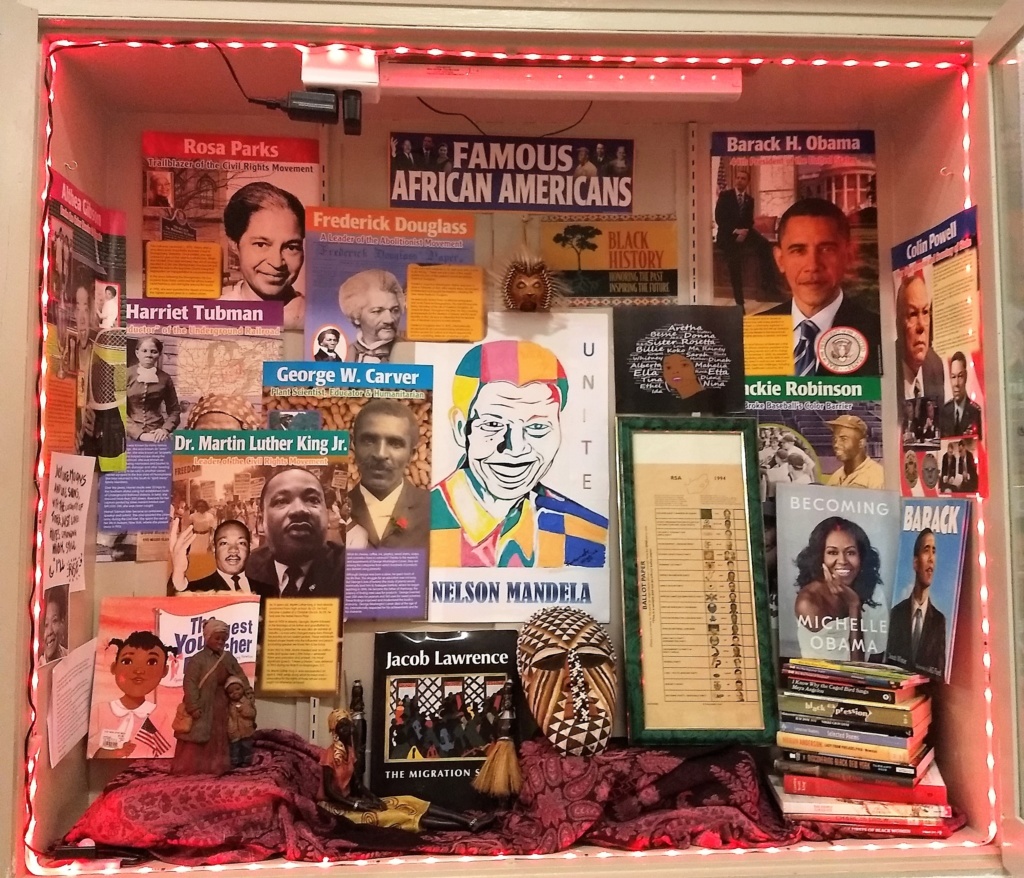 Our Diversity, Equity and Inclusion Committee recognized Black History Month with a beautiful display in the lobby of the Family Partnership Center.
___________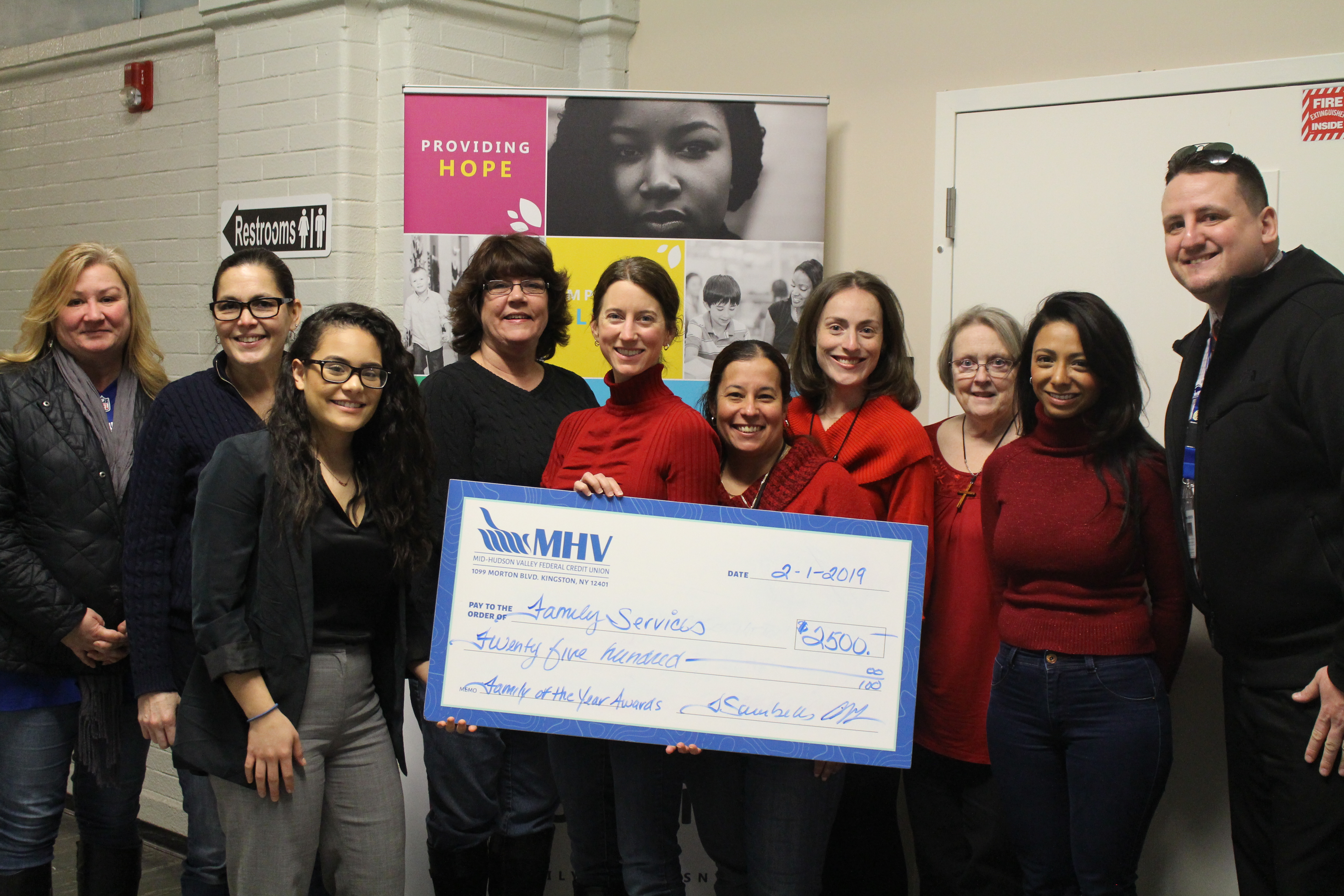 Representatives from MidHudson Valley Federal Credit Union presented our Development Director, Whitney Humphrey with an award representing their generous sponsorship of our annual Family of the Year Awards Dinner.

TICKETS ARE NOW AVAILABLE!
Please join us on April 25th a we recognize the Arnoff and Rossi Families for their commitment to our community! This signature event not only recognizes two incredible families, but also raises funds to support the work of Family Services throughout Dutchess, Orange and Ulster Counties. For more information or to purchase your tickets, click link below.  You don't want to miss this special evening!
---
Leadership Partner

Family Services' 2019
Leadership Partner
http://www.healthquest.org/
---
Shop and Support Family Services

Please support us when you shop on Amazon at AmazonSmile and Amazon donates .5% of the purchase price to Family Services! 
---
About Us