IT'S THE SEASON OF GIVING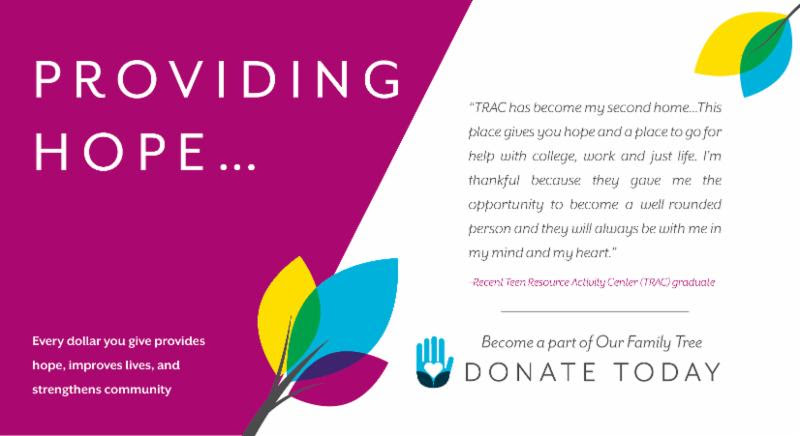 CLICK HERE TO BECOME PART OF OUR FAMILY TREE!
---

Bookmark the link  Family Services AmazonSmile and support us every time you shop.
---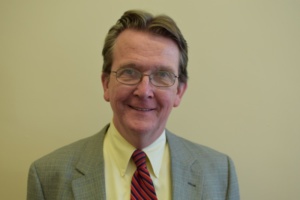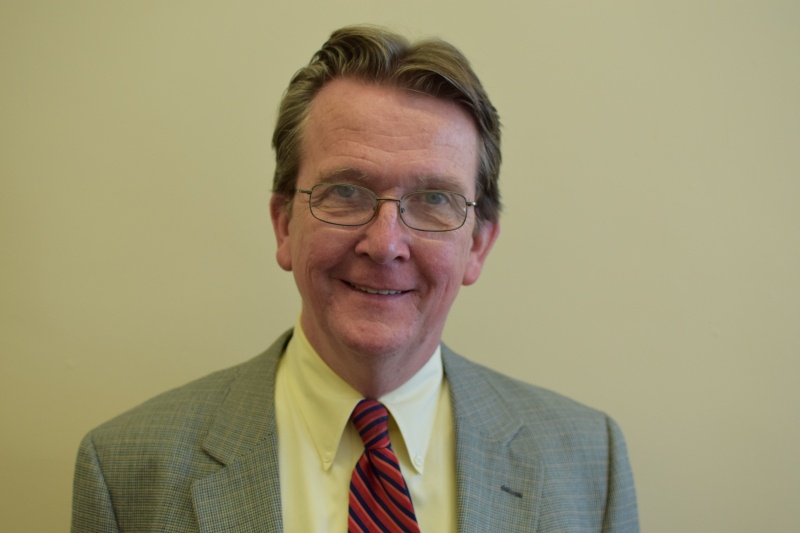 A Review of 2017 and Look Forward to 2018
by Brian Doyle, Chief Executive Officer
2017 has been an astoundingly successful year for the work of Family Services. We have expanded our work in the community to include such things as a new Family Education Program in Orange County where we are working from our newly opened Middletown office to strengthen thirty families who are found to be in need of nurturing and support in order to benefit both children and parents alike.
In Poughkeepsie we launched the SNUG Program, a proven anti-gun violence initiative that is currently successful in eleven sites throughout New York State and whose early results are showing gains in the struggle to reduce or eliminate gun violence in the streets of this City.
A recently awarded contract with the City of Poughkeepsie School District gives us the opportunity for extending Afterschool programing to an additional 100 elementary school students adding to the programming that already exists in Clinton and Krieger Schools.
Through a partnership with Community and Family Development, an important City of Poughkeepsie based day care center, our Finance Office is providing back-office accounting, payroll and budgeting support in order to bridge some fiscal management gaps and contribute to the further success of this daycare program.
The Boards of Hudson Valley Mental Health and Family Services worked tirelessly throughout the year with Fairweather Consulting, a New Paltz based firm, to develop a robust Strategic Plan that asked important questions of our agencies and developed a path forward that promises further expansion of services as well as realigning the resources of Family Services and Hudson Valley Mental Health into what will be a consolidated agency – unified and providing greater cohesive services throughout the Hudson Valley. Specifically, the Boards of Hudson Valley Mental Health and Family Services voted to consolidate the two agencies into one so as to eliminate such duplications as exists with two Boards and to align to a stronger set of services.
Extensive study of Capital Development needs of the Family Partnership Center is underway and, furthermore a new Family Partnership Center Steward position will be created to provide guidance and support toward more collaborative efforts among the agencies calling the Family Partnership Center home.
Finally, the Strategic Plan calls for the creation of a Quality Improvement position within Family Services. This position will further ensure, for ourselves as well as our funders that the services we are providing in the various program areas (Youth Services, Family Programs, Prevention, Victim Services, Community Safety and the Family Partnership Center) are the very best that they can be.
So, as we end 2017 a year of success and greater fiscal health, we can look forward to 2018 and all that will newly unfold as we continue the work of improving lives, providing hope and strengthening community.
Best wishes for a Merry Christmas, Happy Hanukkah, Blessed Kwanzaa and a Happy New Year.
---
Recent Events
Lt. Governor Kathy Hochul visited Family Services on Thursday, December 7th to tour the Center for Victim Safety and Support and host a press conference in the lobby of the Family Partnership Center. The Lt. Governor addressed the matter of sexual violence and the support and funding provided by New York State Division of Criminal Justice Services and the New York State Office of Victim Services to combat this issue and support victims.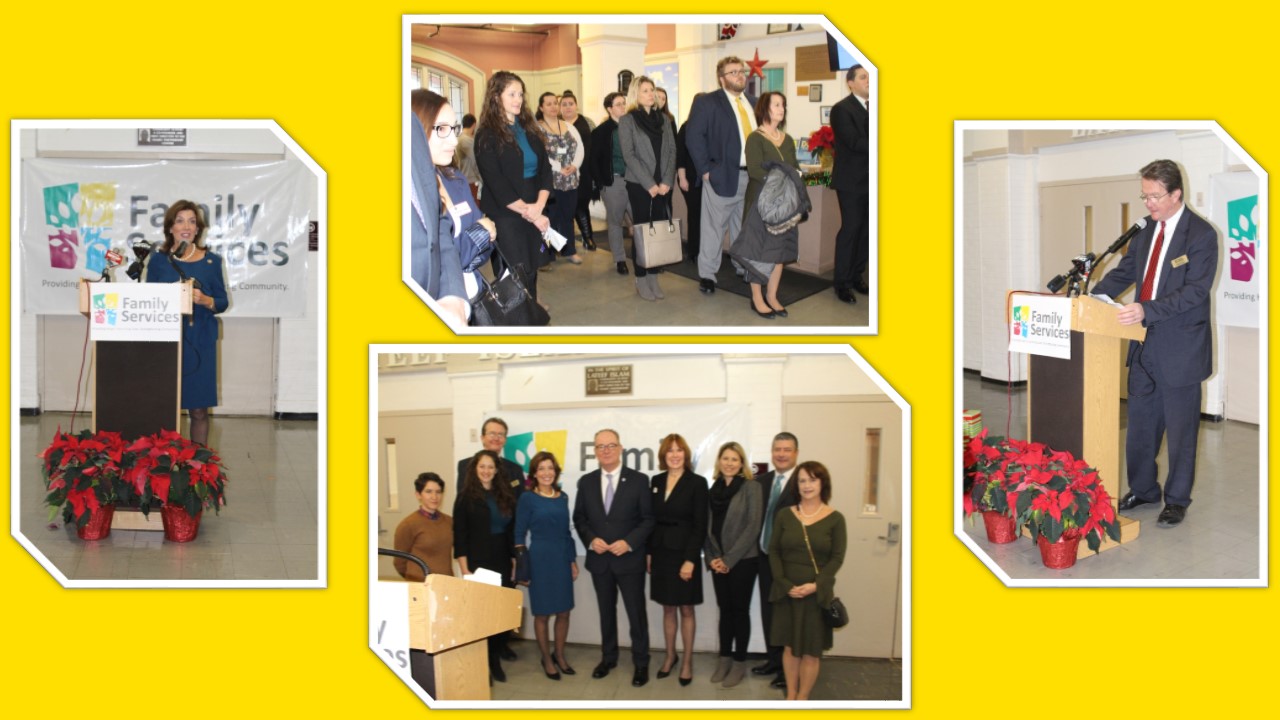 ___________
The Family Services' Family Education Program held an Open House on Friday, December 1st from 12pm to 2pm at their new office in Middletown highlighting the expansion of the Family Education Program into Orange County.  Several friends from local government and other non-profits were in attendance.
___________
Ulster Prevention Council graduated more than 300 students
in the Too Good for Drugs program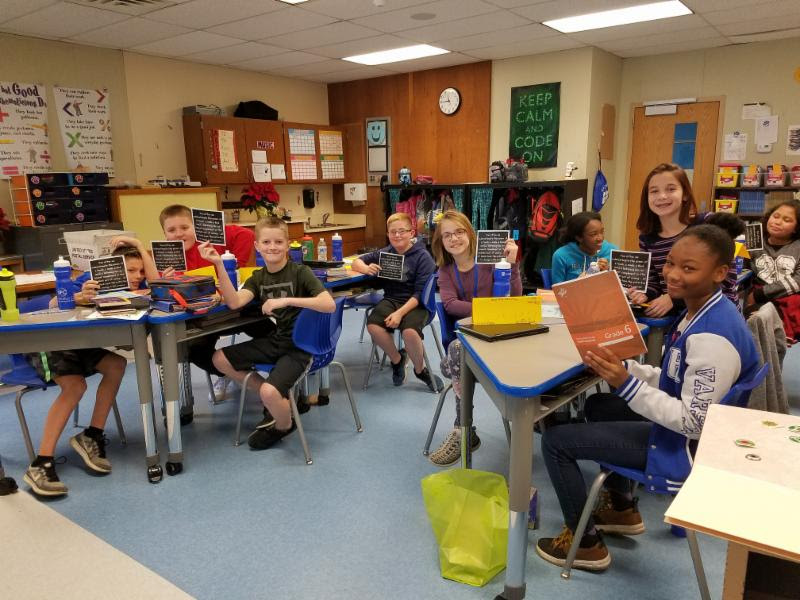 "Too Good For Drugs" is a comprehensive and evidence-based substance use prevention curriculum that Family Services' Ulster Prevention Council  implements in partnership with Ulster County school districts. Prevention Educators apply interactive social games and activities to promote healthy decision-making.  Students within Wallkill and Ellenville 6th grade classes recently took part in a 10 week prevention curriculum that focused on strengthening knowledge, attitudes, beliefs and skills to support drug prevention. The goal is to create a safe and supportive environment by establishing a healthy drug free foundation.  Through the years,  Too Good for Drugs has reached well over 1,000 students in Ulster County. 
---
Family Services' "Youth Services Corner"
The kids in the Clinton Elementary School
Afterschool Program celebrated the season with a
Harvest Pot Luck Festival on November 29th.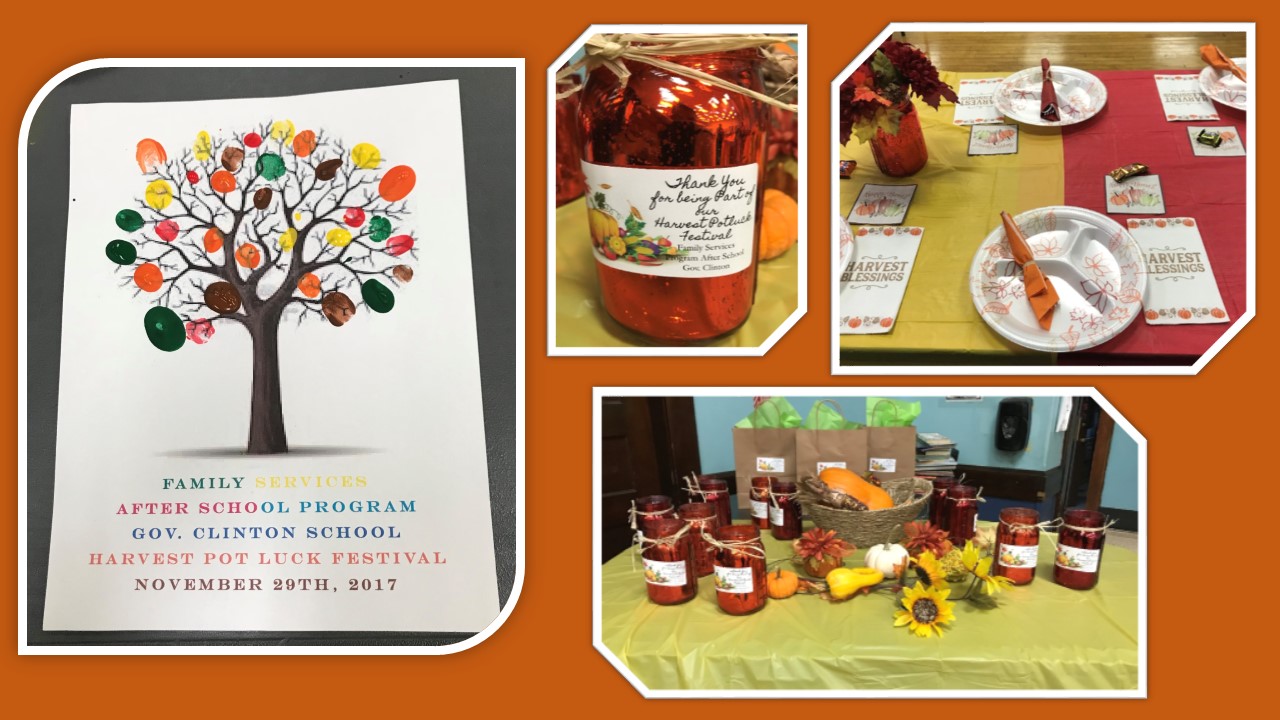 ---
By the Numbers
171 FAMILIES
The Poughkeepsie United Methodist Church distributed Thanksgiving Baskets at the Family Partnership Center to 171 families. Catherine Close, Chairperson Missions/Outreach states:
"The people who received a basket appreciated the convenience of coming to this location where there were no stairs and where it was closer to their homes.  We were able to provide a traditional Thanksgiving dinner to 171 families.
The staff at the Center were very helpful and had the room set up just the way we needed it."
---
Staff/Volunteer/Interns
Family Services enjoys recognizing staff accomplishments!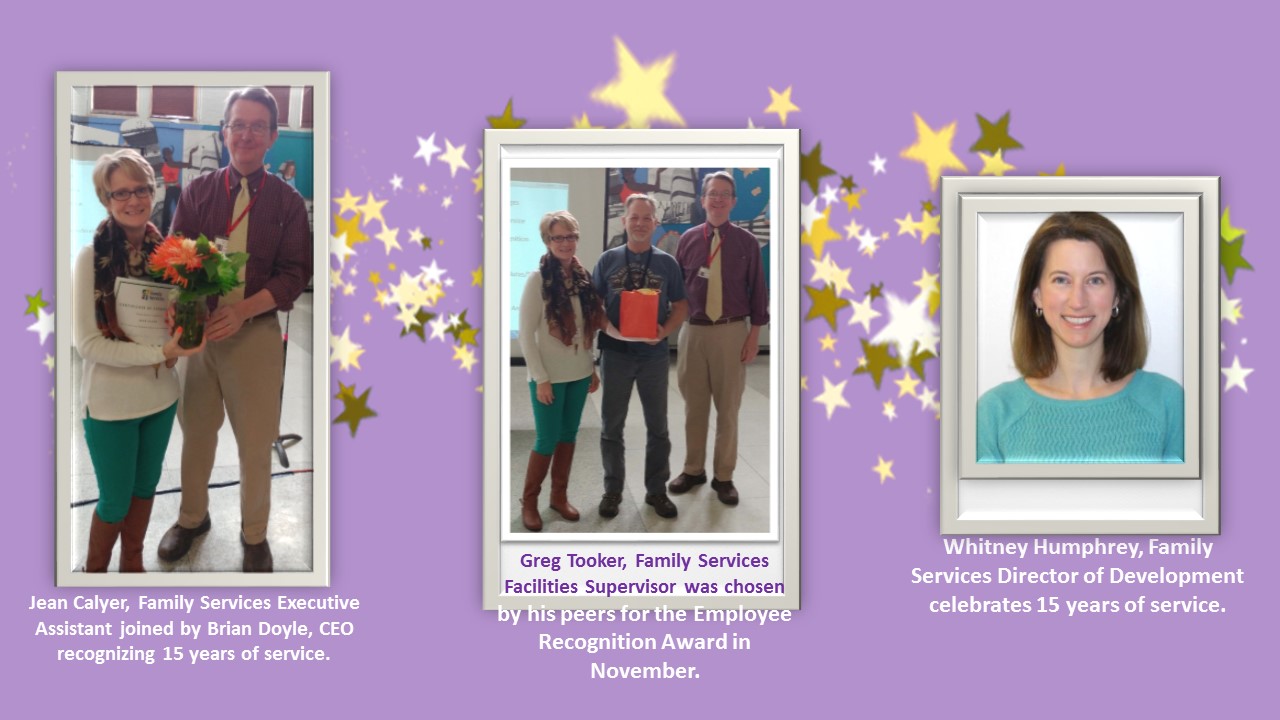 ___________
The Family Services family keeps growing.
Congratulations Loule and Family!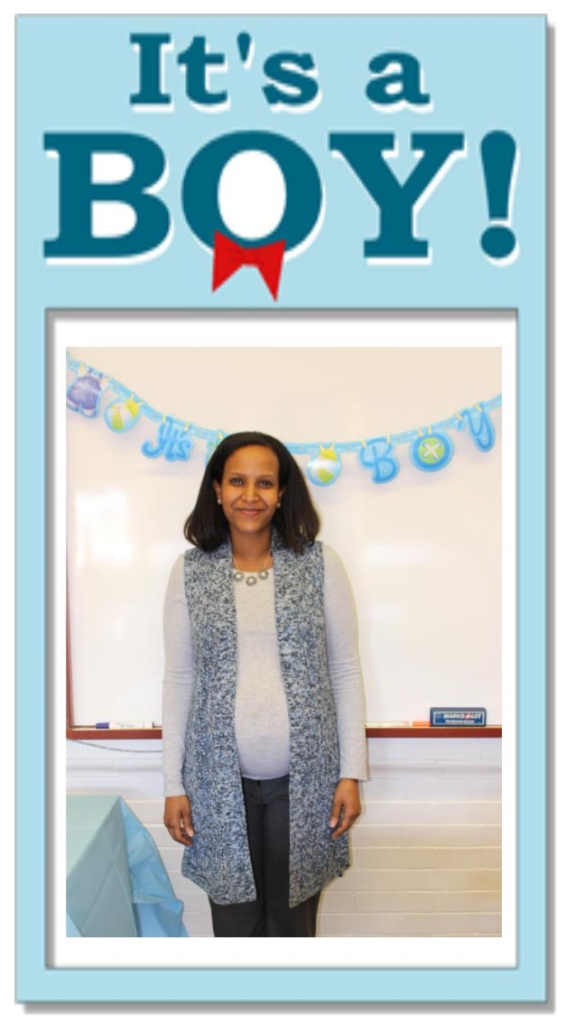 ---
Upcoming Events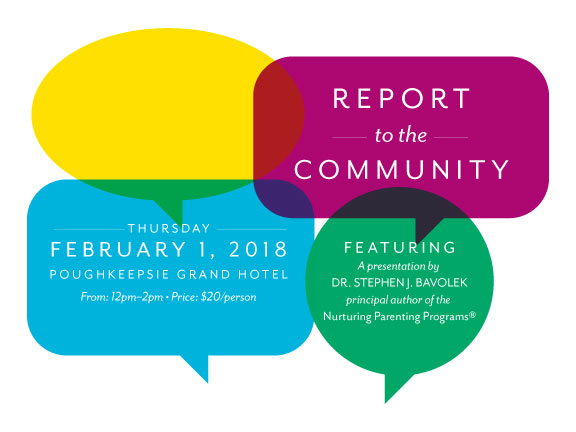 CLICK HERE TO PURCHASE YOUR TICKET NOW
___________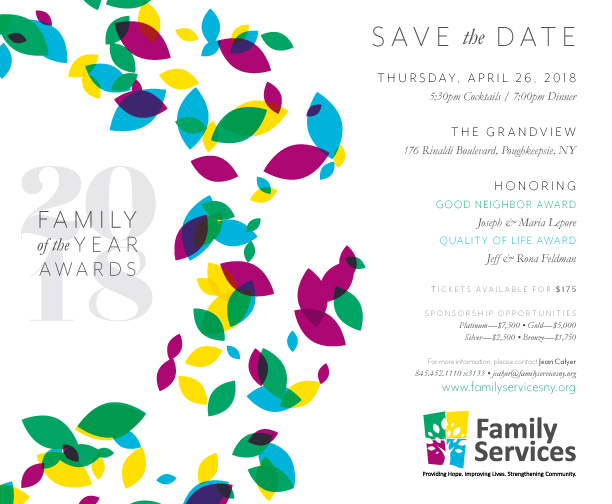 ---
Leadership Partner

Family Services' 2017
Leadership Partner
http://www.healthquest.org/
---
Leadership Team
Brian Doyle
Chief Executive Officer
bdoyle@familyservicesny.org
Joan Crawford
Deputy Executive Director
jcrawford@familyservicesny.org
Natalie Borquist
Chief Financial Officer
nborquist@familyservicesny.org
Leah Feldman
Director of Center for Victim Safety and Support
lfeldman@familyservicesny.org
Christopher Pels
Director of Human Resources and Risk Management
cpels@familyservicesny.org
Whitney Humphrey
Director of Development
whumphrey@familyservicesny.org
Martina Kardol
Director of Forensic Programs
mkardol@familyservicesny.org
Amy Cole
Director of Family Support Services
acole@familyservicesny.org
---
Our Partners at the Family Partnership Center
Born Again Disciples (B.A.D.)
845-471-2578
Community Voices Heard
www.cvhaction.org
Dutchess County Behavioral & Community Health
www.dutchessNY.gov
Dutchess Community College
www.sunydutchess.edu
Dutchess County Healthy Families
www.healthyfamiliesnewyork.org
Dutchess Outreach
www.dutchessoutreach.org
Flores Chiropractic Group NY
845-303-3486
Hudson River Community Health Care
www.hrhcare.org
Hudson River Housing
www.hudsonriverhousing.org
Hudson Valley Mental Health
www.hvmh.org
John Flowers Community Events
845-471-4199
Mental Health America-Mel's Place
www.mhadc.com
Nobody Leaves Mid-Hudson
734-548-0171
Planned Parenthood
www.ppmhv.org
Prime Health Choice
1-877-777-4630
R.E.A.L.Skills Network, Inc.
www.realskillsnetwork.com
Rebuilding Our Children and Community
845-857-9265
Sadie Peterson Delaney African Roots Library
845-452-6088 ext. 3343