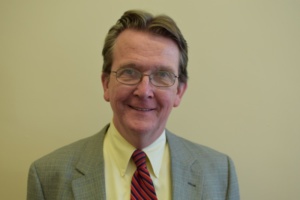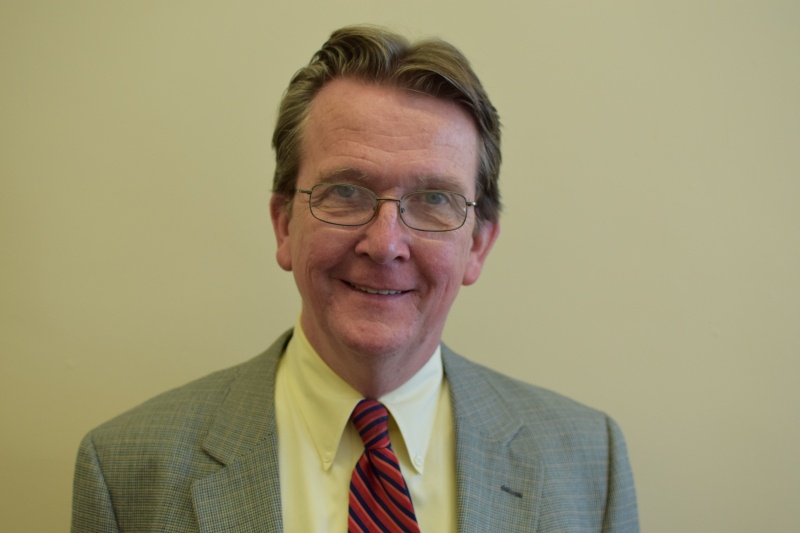 A NOTE FROM OUR CEO
Brian Doyle
OPEN FOR PLAY!
After much planning, work and lots of hopeful anticipation, I am very pleased that the "Urban Park Project at the Family Partnership Center is ready for prime time!"
This terrific project includes New Bleachers, State of Art Program Divider, Air Conditioning, Refurbished Restrooms, Score Boards, Refinished Flooring, Landscaping, Play Ground Equipment, A Volley Ball Court, Attractive Fencing, Picnic Tables, Benches, and more!
The newly renovated gym opened for play on Saturday, July 20, with an Open Gym event organized by Community Matters 2, with the help of Readers Are Leaders, Council Member Yvonne Flowers, Family Services' SNUG, the City of Poughkeepsie and a host of volunteers! This and other activities will continue throughout the Summer, and – hopefully- well beyond. Open Gym for ages 11-18 will take place on Saturday Evenings from 6 to 9pm and will include other activities such as food, board games, arts, and reading in the FPC Cafeteria.
On Saturday and Sunday mornings and afternoon, throughout the summer, the AAU 845 Athletics will host Free Basketball Clinics in the gym. Clinics for ages 7-12 will take place from 11:00am – 1:00pm, while clinic for ages 12-18 will take place from 1:30pm – 4:30pm.
As this is an important new resource for our community, we are looking for other community groups to take advantage of the new gym.
The new gym, and other parts of the FPC Urban Park Project has been made possible through a grant provided by the the NYS Office of Parks, Recreation and Historical Preservation, along with major contributions from many generous donors from throughout the community!
So, the next time you are in the neighborhood, please stop by and see this fabulous new addition to the Family Partnership Center!


By the Numbers
ONE HUNDRED AND EIGHTY
As of Saturday, August 3rd the City of Poughkeepsie has been free of gun violence for 180 days.
We would like to recognize the Family Services' SNUG Team, Mayor Rolison, City of Poughkeepsie Police Chief Tom Pape, the entire City of Poughkeepsie Police Department,and everyone in the community who has joined in and supported the ongoing work to STOP THE VIOLENCE!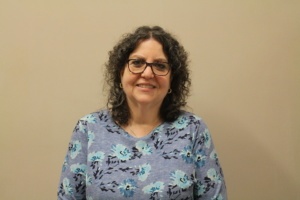 September 10th is World Suicide Prevention Day
Robin Peritz, Vice President for Behavioral Health Centers
Suicide Is Preventable!
According to the American Foundation for Suicide Prevention, suicide is the second leading cause of death among young people aged 10-34 and the tenth leading cause of death in the United States. Among LBGTQ+ individuals, the suicide rate is higher than that of the rest of the population. There is no single cause of suicide. We know that depression, anxiety, health issues and substance use are some common conditions that, when untreated, can lead to increased suicide risk.
What Can You Do to Help Prevent Suicide?
1)   Reduce the stigma by talking about it. All too often, people are afraid to bring up the subject of suicide or say the words, "Are you feeling suicidal?" for fear that they will be wrong or cause someone to act on it. In fact, people need and want to talk about how they are feeling, and it often helps them to know that they are not alone.
2)   Learn the warning signs and contributing factors. Here are a few to be aware of:
• Increased use of drugs or alcohol
• Isolating from family and friends
• Sleeping too little or too much
• Withdrawing from daily activities
• Increased agitation or anger
• Trauma/abuse or neglect
• Increased depression, anxiety or other mental health symptoms
• Family history of suicide
• Relationship stress, loss or divorce
• Financial stress
• Loss of a job or home
3)   Individuals who previously attempted suicide are at 30 to 40 times increased risk to die by suicide than someone without a history of suicide attempts.
4)   Reach out when you think someone may be suicidal. Let them know that they are not alone and that you are there for them.
5)   The most effective way to prevent suicide is to reduce access to guns.
6)   All suicidal thoughts or actions should be taken seriously. Know your community resources. Seek help from a mental health professional.
Where Can You Get Help?
We all can play a role in preventing suicide. If you are thinking about suicide or are worried about a friend or loved one, call or text the Dutchess County Helpline 24 hours a day 7 days a week at 845-485-9700 or the National Suicide Hotline at 800-273-8255. Family of Woodstock has a 24-hour hotline at 845-338-2370 or 845-679-2485. If you or someone you know is in immediate danger, call 911.
Family Services can help meet your behavioral health needs. We have centers in Dutchess County in Beacon, Dover Plains, Millbrook, Poughkeepsie and Rhinebeck. In Ulster County, you can receive services in Ellenville, Kingston and New Paltz. For appointments in Dutchess County, call 845-485-9700, and for appointments in Ulster County, call 845-486-2703 ext. 4016.
Program Spotlights
Ulster Prevention Council
Did you know that "vaping" consists of aerosol containing dangerous metal particles, not vapor?
Did you know that a Juul pod contains roughly as much nicotine as a full pack of cigarettes, or about 200 puffs?
Capitalizing on the popularity of escape rooms, the Ulster Prevention Council, a program of Family Services, now offers the DoIt4URLungs Vape Escape Room. An escape room, also known as an "escape game", is a live­‐action team­‐based game where players cooperatively participate in a sequence of activities in order to progress and accomplish a specific goal in a limited amount of time.
The Vape Escape room provides a fun and exciting interactive experience that provides a thorough education regarding vaping, and can be used as an alternative to suspension for students. DoIt4URLungs participants discover clues, solve puzzles, and accomplish tasks to discover the risks associated with vaping and develop skills in order to escape the vape.
Challenges in an escape room are mental, not physical, and it is not necessary to be physically fit or dexterous. The room is intended for audiences age 12 to adult and is best for small groups of 6-8 participants.
To schedule a Vape Escape Room in Ulster County, contact Susan Baxter, Prevention Coordinator at (845)458-7463 or 
sbaxter@familyservicesny.org
. DoIt4UR Lungs was developed by Student Assistance Services Corporation.
Ulster County Family Advocate Program
The Ulster County Family Advocate Program began as a response to the opioid crisis for residents of Ulster County. The legislature felt that people were having a difficult time getting treatment due to a lack of knowledge about treatment facilities, the process to be admitted to treatment and due to a lack of insurance or denials for coverage by insurance companies.
Over the past two and a half years the Family Advocate Program has helped hundreds of families who are experiencing problems with drugs and alcohol. We have helped those with Substance Use Disorder determine what level of treatment they need and helped them with the intake process. We have also helped the loved ones of those with SUD by providing support and education about this family disease. We provide education on the use of medications for SUD, an effective option to help individuals lead healthy, normal lives and reduce the possibility of overdose.
The program offers a grief support group for those who have lost someone to addiction. This is a weekly group where people are able to share their feelings in a safe supportive environment. Due to the stigma associated with the use of drugs, loved ones are often hesitant to share how their loved one was lost which can make the healing process more difficult.
The Family Advocate Program not only services individuals and families, the program participates in county initiatives to provide treatment in the county jail, to make treatment available in the hospital Emergency Rooms, to expand the availability of medication treatment by local doctors and in the development of a drug court specifically for opiates.
For more information o the Family Advocate Program, contact Carol Sutcliffe, 845-458-7455.

 A Look Back

Keith Hudes, Family Services Coordinator of Advocacy and Training for the Center for Victim Safety and Support, worked with the Culinary Institute of America's Residence Life Department to create an impactful Sexual Assault Awareness month. Campus activities included a walk, healing garden and readings. CIA students raised nearly $1,200 to support Family Services Center for Victim Safety and Teen Resource Activity Center.
___________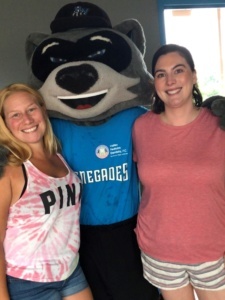 Our friends at M&T Bank donated their suite at Dutchess Stadium to Family Services staff. On July 18th, staff and families enjoyed the Renegades game. This is always a fun event for staff and we are truly grateful for their thoughtful generosity.


Upcoming Events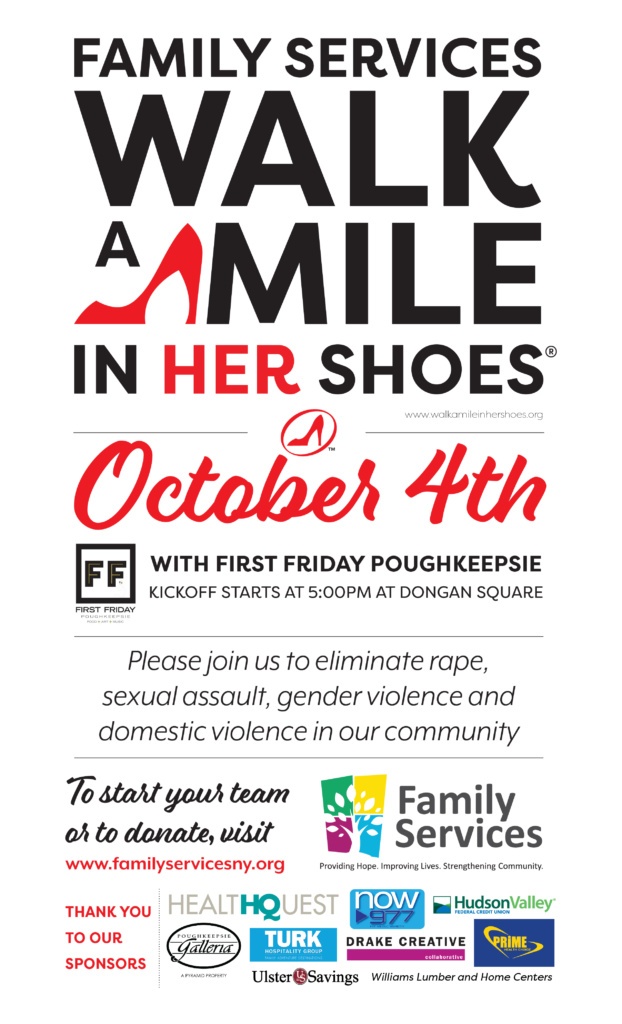 Leadership Partner

Family Services' 2019
Leadership Partner
http://www.healthquest.org/

Shop and Support Family Services
Please support us when you shop on Amazon at AmazonSmile and Amazon donates .5% of the purchase price to Family Services! 

About Us