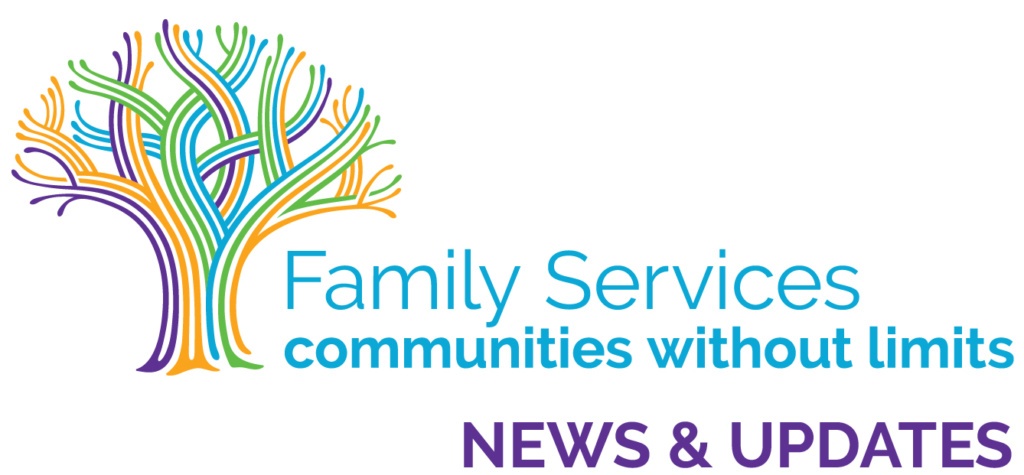 A Note from Our CEO:
A TRIBUTE TO MICHAEL DUFFY: A FOUNDING HERO OF THE FAMILY PARTNERSHIP CENTER
Brian Doyle
"Mike Duffy was one of the first people I met when I came to Family Services. For weeks, every morning, when I came to work there was a man there already hard at work. Sometimes he had a paint brush, painting the trim on the third floor. Sometimes he would come up from the basement with wrenches and buckets. Regardless of what he was working on, he always greeted me warmly. Then suddenly he wasn't there in the mornings when I arrived. I asked one of my colleagues what had happened to the nice maintenance man. She didn't know who I meant. I asked around and someone figured out that I was referring to our Board member, Mike Duffy. Wow, was I impressed! Such a hardworking man, incredibly committed to the Family Partnership Center. Mike Duffy was the backbone of the newly formed Family Partnership Center, the physical plant and its ideals" – 
Joan Crawford.
The Family Partnership Center and its partners have stood strong together through the COVID-19 crisis, and we stand together now to pay tribute to a man who shepherded this great community center of hope to life – Michael Duffy, who passed away on December 30
th
. 
I, myself, came to Family Services in 2011, not having witnessed its infancy. At that point Mike had already moved on to nurturing new projects (The Community Boat House; Walkway Over the Hudson!!). But whenever I needed a historical reference or insight into this beautiful old building's infrastructure, I would call Mike who made himself available, readily offering advice and encouragement. Many in our community counted on Mike to be there when needed.
Rob Dyson, Dyson Foundation Board Chair and longtime friend to Family Services recalls: 
"Years ago My wife (Emilie Dyson) came up with the idea of taking over a vacant school and creating a place where family services of all kinds could exist in one place. Realizing that this could take several paths, I asked Mike – 'I need a guy who knows how to count' to join up and insure this could work and execute the needed construction. He did and it's still there and thriving in downtown Poughkeepsie".
When Mike first learned of the project that was to become The Family Partnership Center, he had recently retired from IBM, adding with a chuckle, "
and I just finished painting my garage floor for the second time! I was ready for a new project."
 He dived into the emerging Family Partnership Center, a one-stop human service center, with an ever-increasing commitment. His talents were huge and varied, from engineering and construction, to finance, and administration. According to many, it always seemed that Mike was going to or returning from the most remote parts of the building – basement, boiler room, attic, as he infused his spirit into the building and mission of this building. Board member, Peter Leonard recalls "
Mike was eager to join with people with different talents, always with a gentle smile that lived on the verge of a laugh. This led to his friendship with the charismatic community organizer Lateef Islam, a friendship that was an essential component of the wider collaboration that transformed human services in Poughkeepsie".
In a letter to Mike from years ago, Brian Riddell, then Executive Director of Dutchess Outreach, perhaps, said it best in citing Mike's selfless example of charity, clarity and fiscal responsibility. 
"You never lost sight of the PEOPLE who came here for help. It is a pleasure to salute a man who literally got down on his knees, to work, as likely to pray, for the success of the Family Partnership Center".
Michael Duffy 1940 – 2020
We thank you for the many ways your shared your heart with our community. Your legacy will live on in the thousands of lives that are impacted inside The Family Partnership Center each year.

JANUARY IS NATIONAL SLAVERY AND
HUMAN TRAFFICKING PREVENTION MONTH
By Joan Crawford and Kait Rodriques
Family Services' Center for Victim Safety and Support (CVSS) provides 24-hour, non-residential, comprehensive services to victims of domestic violence, sexual assault, human trafficking, and other crimes. We operate under the guidelines of a victim-centered approach, supporting victims' rights, dignity, autonomy, and self-determination. All services are free, accessible, and confidential.
As January is National Slavery and Human Trafficking Prevention Month, we are provided with an opportunity to shed light on an issue that impacts 40.3 million people worldwide (hopeforjustice.org). The Department of Homeland Security defines human trafficking as the use of force, fraud, or coercion to obtain some type of labor or commercial sex act. Different types of human trafficking include sex trafficking, forced labor, and domestic servitude.
It is important to know that human trafficking can and does happen in all communities, even in our Hudson Valley. Human trafficking is a crime that happens in cities, in suburbs, and in rural areas. Individuals victimized by human trafficking can be any age, race, or gender.
Though human trafficking can present in a multitude of ways, CVSS advocates are trained to assess for indicators of human trafficking, such as unsafe working and living conditions, complexities around immigration status, report of threats, abuse, fraud, and coercion, and other red flags. Staff at CVSS utilize an individualized victim-centered approach to combat human trafficking and offer specialized support. CVSS advocates understand the challenges around reporting human trafficking and seeking safety.
Family Services is part of the Dutchess County Task Force Against Human Trafficking, led by David Garcia (
david.garcia@dfa.state.ny.us
). True to the Family Services mission, and through unique collaborations with area hospitals, law enforcement, prosecution, and other resources, Family Services works with the Task Force Against Human Trafficking to provide wraparound, holistic, and quality services to victims of human trafficking.
If you or someone you know has been victimized by human trafficking, Family Services' Center for Victim Safety and Support can be a resource. Connect with us 24 hours a day, 7 days a week by calling 845-452-7272.

By the Numbers

5766 Clients Served
Covid-19 has had a significant impact on our mental health this year. According to a recent survey by the NYS Office of Mental Health, 70% of individuals have had an increase in anxiety, stress and related symptoms due to the impact of the pandemic ranging from loss of job to changes in education. Family Services' eight Behavioral Health Centers throughout Dutchess and Ulster Counties were a source of in person and telehealth support for nearly 5800 individuals in 2020, a year of crisis.
If you or someone you know needs help, our team of counselors and medical staff are available for support.
Schedule your appointment by calling:

Program Spotlights

SNUG
A new year brings new opportunities for SNUG to serve high risk youth as the needs of families and our community continue to grow. But one thing remains constant, SNUG's ability to reduce gun violence by mediating conflicts, providing support to participants, and bringing the community together.
SNUG is excited to partner with Rhinebeck Bank – as staff and participants participate in weekly financial fitness. When individuals have a solid understanding of personal finance and investing, navigating the world can seem a bit easier. With the Financial Fitness Program, participants have begun to learn where their money goes, how to pay off debt, how to save. and how to apply the important lessons learned to real life. 
On January 30
th
, from 11:00am – 3:00pm at the Family Partnership Center, SNUG invites the community to the 
Take and Go Pancake Event
.  This event is a time for community-building and celebration of the people who support our efforts to build brighter futures for the children and families we serve. Parents, students, friends, neighbors, staff, teachers, clergy, politicians, and all community members are invited to come and enjoy a delicious pancake breakfast. For more information, contact Debra Long at 
dlong@familyservicesny.org
. 
---
Elder Case Management Program
A Component of our Center for Victim Safety and Support
The Elder Case Management Program serves individuals 60+ who have been the victim of financial exploitation, neglect, psychological abuse, sexual abuse or domestic violence. The goal of the program is to provide early recognition and intervention, intensive case management, community outreach, training and education, and to prevent further instances of abuse. 
Recently, the program completed the development of a new Elder Abuse Case Management pamphlet that will be distributed throughout the community. The program has connected with organizations throughout Dutchess County, in order to share program information and offer presentation of our Elder Abuse Case Management services to their staff. Program staff continue to research agencies, hospitals, assisted living homes and other community resources the elder population may connect with in order to grow our resource list and expand community outreach. To ensure we are providing comprehensive and holistic services to clients who connect with us for help, Family Services is coordinating an Elder Abuse Response Committee wherein organizations who work with individuals from the elder population can connect and share resources and trainings. If you are interested in being a part of the Elder Abuse Response Committee, contact Krystal Peters at 
kpeters@familyservicesny.org.

A Look Back
Thank you for your thoughtfulness and generosity this holiday season. You helped ensure our services remain available by contributing to our Giving Tuesday and End of Year Fundraising Appeal. You also helped make the holidays brighter for children and families throughout the Hudson Valley by providing toys, clothing, and food for those in need. The happy faces behind the masks below belong to youth in our After the Bell Program who received sports jerseys for the holidays from our friends at Family Ball Park Memories.
Save the Date for Family Services' Virtual "Share Your Heart" Auction opening February 1st to benefit Youth Services Programming. These are tough times for children in our community – so many activities are cancelled, remote learning can be a challenge, and youth miss being with their friends. When you support the "Share Your Heart"  Auction, you help provide a safe space for youth at the Family Partnership Center where they can develop their academic, athletic, creative, workforce and social skills. Stay up to date on available auction items by visiting the auction page of our website here.
If you would like to contribute an item to the "Share Your Heart"  Auction, please contact Development@familyservicesny.org.
---
Join us on Thursday, February 25th for our annual Report to the Community Luncheon as we highlight our successes during a challenging year, discus how trauma is impacting our community, and talk about our upcoming plans for 2021.This year's luncheon will be a virtual event and we invite you to grab your lunch and join us online from 12:00pm – 1:00pm.
Tickets to Report to the Community are FREE, but donations are welcome to support Family Services' vision of stronger, safer communities where everyone has the opportunity to lead their best lives. Register by clicking the link below and prior to the event, you will receive an email with information to join our first ZOOM Report to the Community.
Join Our Family Tree
By joining our Family Tree, you are supporting our vision of stronger, safer communities where our neighbors have access to critical resources when they need it most.
Support Family Services when you shop online
By choosing Family Services as your charity of choice through 
AMAZON SMILE
, Amazon will donate .5% of all qualified purchases to Family Services.

Family Services' 2021 Leadership Partner


Find Us On Social Media