Map Unavailable
Date/Time
Date(s) - 09/30/2023
All Day
Categories

The 50 Meaningful Miles campaign represents the journey of overcoming hardships of something that feels impossible, and reaching the finish line of healing and hope.
On September 30th, Family Services' CEO Leah Feldman is taking on the challenge of running 50 miles in one day to honor the unwavering determination that exists inside everyone.
We challenge you to help us raise $50,000 by running or walking your own 50 miles throughout the month of September.
Become part of the movement:
Build your own fundraising team and get your friends involved!
Join an existing team!
Donate to an existing team/participant!
"If we believe in someone's ability to run 50 miles in one day, it means we believe in the strength of the human spirit to overcome and thrive despite adversity. It means we believe in hope, recovery, and triumph." -Leah Feldman, CEO
Ways YOU can get involved on September 30th!
• Be a strength ambassador: Run the last 4.5 miles with Leah! Meet on the Highland side of the Walkway by 2pm!
• Bring on the Hope: Run the last 2 miles with Leah, along with a group of first responders, symbolizing the work we all do together to bring people across the finish line of healing and hope. Meet at the Morgan Lake trailhead on the Dutchess County Rail Trail by 2:30pm
• Celebrate: Gather at the finish line at 3pm which is the 50 Meaningful Miles marker decal at the flagpole on the Walkway!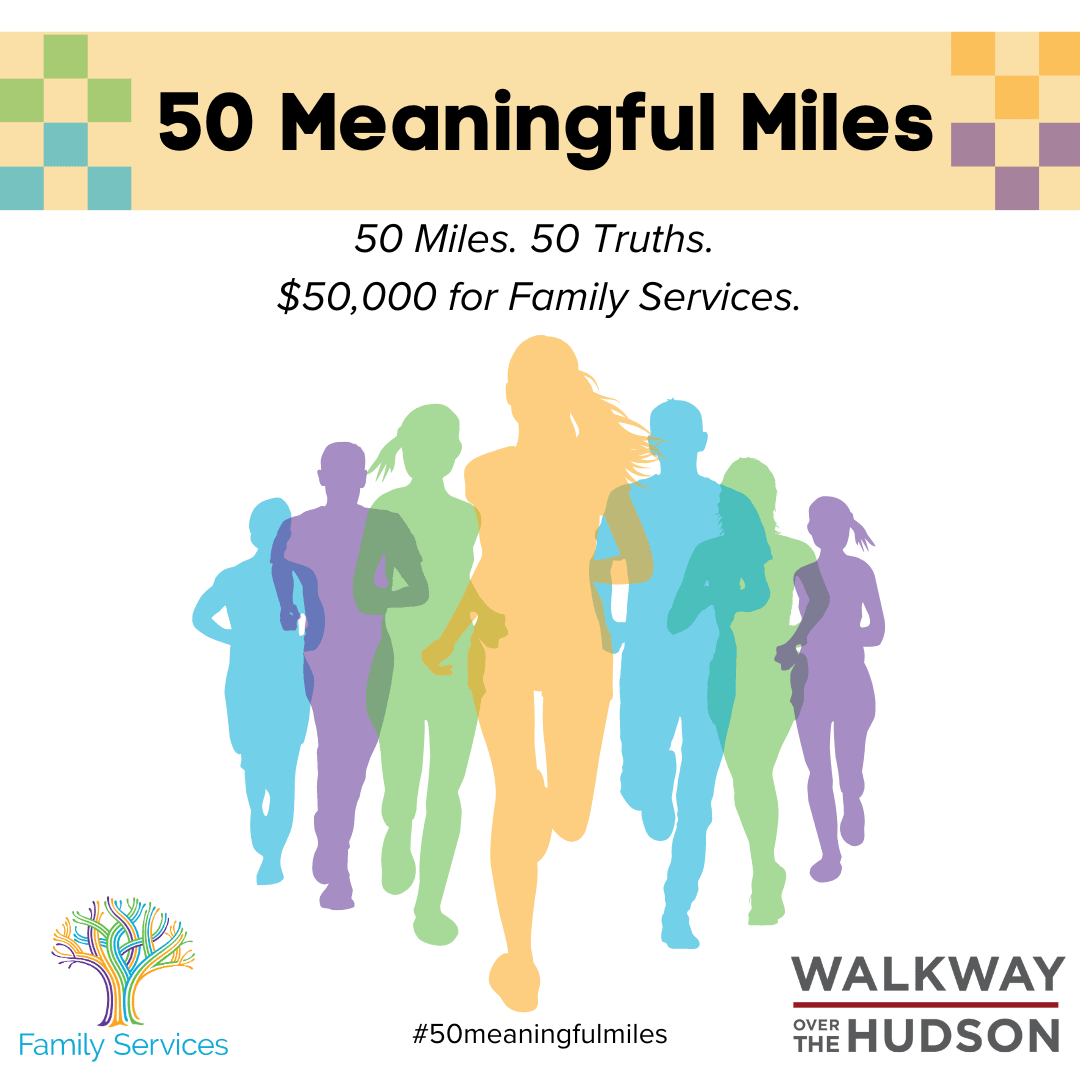 " Everyone is running their own 50 miles. No matter how long your 50 miles may seem, you're not running it alone." 
-Leah Feldman, Family Services' CEO